Spike in traffic on citizensinformation.ie during the general election
Two million users visited citizensinformation.ie in the past month and 'Registering to vote' is most popular document
Following the announcement that the Irish general election would take place on 8 February 2020, there has been a significant increase in traffic to the 'Elections and referendums' section of the website. 'Registering to vote' was the most visited page on the website over the past month.
The citizensinformation.ie website is provided by the Citizens Information Board and is a trusted source for clear and accessible information about public services in Ireland.
"In the past month, the website has had almost 2 million users who viewed over 5.6 million pages", said Cathy Gerrard, Information Resources Manager. "Most of these users browsed the website on a mobile device (63%) and the majority were visiting from an Irish location (89%). People were looking for information on registering to vote and information about general elections."
From the beginning of January to February 5th, the 'Elections and referendums' category had 140,990 page views –2.49% of the total website page views for this period. The top four most accessed documents by page view in the 'Elections and referendums' section were: Registering to vote (90,398), General elections (11,834), Proportional representation (9,783) and Right to vote (7,248).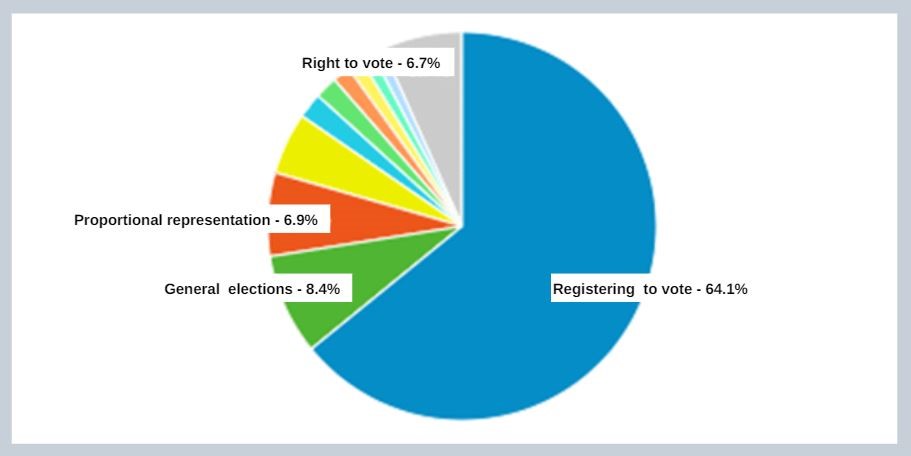 Distribution of page views in the 'Elections and referendums' section
About citizensinformation.ie
The website citizensinformation.ie gathers information from various government departments and agencies to make sure that users have the information they need, presented in an easy-to-understand way. In 2019, citizensinformation.ie had 12.5 million users who viewed over 47 million pages. Last year the most popular documents on the website were:
Irish citizenship through birth or descent - 476,465 views
How to apply for your first Irish passport as an adult - 466,456 views
State pension (contributory) - 425,167 views
Working Family Payment - 422,271 views
Carer's Allowance - 354,962 views