Sign Language Interpreting Service maintains a vital lifeline for Deaf citizens that includes GP access and Remote Interpreting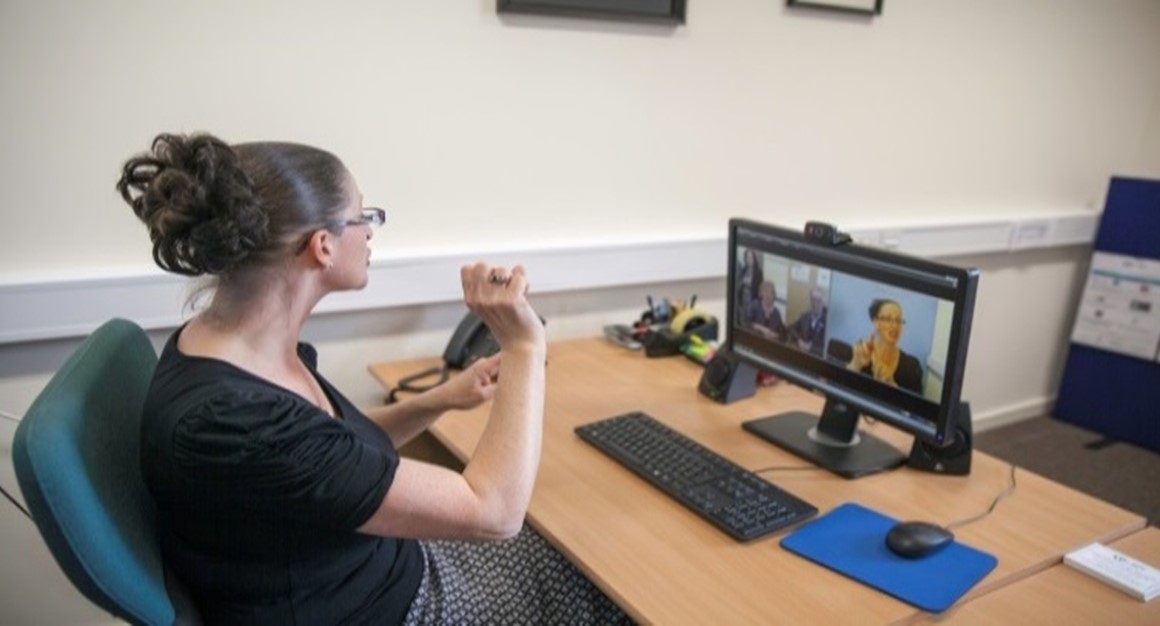 "2020 was an extremely difficult year for all, including Ireland's Deaf community. Sign Language Interpreting Service (SLIS) has been working hard to continue to provide a vital lifeline for Deaf people linking them and service providers to quality Irish Sign Language (ISL) interpreting through our referral service, GP access, and the Irish Remote Interpreting Service (IRIS)" Caroline McGrotty, Chairperson of SLIS - Sign Language Interpreting Service, said at the SLIS AGM.
SLIS points to some very significant achievements in the last year including:
SLIS opened the Register for Irish Sign Language Interpreters (RISLI), on 23 December 2020, following three years of consultation and development with the Deaf and interpreter communities and the Citizens Information Board (CIB). SLIS continues to develop and exercise the underlying quality assurance scheme, and looks forward to completing this task by the end of 2022. This is the timeframe of the current National Disability Inclusion Strategy (NDIS) and provides policy makers and funders the opportunity to consult and decide about where the register will sit in the sector thereafter.
Extensive work in 2020 enabled SLIS, in cooperation with CIB, to establish and trial a pilot voucher scheme for ISL users to access to interpreting for social and cultural events and activities, from 30 June 2021 to 30 September 2021. SLIS hopes the evaluation of this pilot scheme will inform a permanent scheme to meet the requirements of section 9 of the ISL Act.
SLIS has continued to develop the Irish Remote Interpreting Service (IRIS). IRIS was established in 2011 and has grown with the support and funding of CIB and NDIS into a full time professional service. In 2020, IRIS was an essential link for Ireland's Deaf community to services including the HSE COVID Helpline, arranging COVID-19 consultations, tests and contact tracing. In addition, in 2021 SLIS and CIB piloted a bespoke software application for IRIS, which hopefully will be made a permanent development of IRIS. Today, IRIS provides an average of 936 interpreting assignments per month and is open 9am to 8pm Monday to Friday, as well as weekends, and bank holidays during the COVID restrictions. SLIS looks forward to enhancing collaboration with CIB on technology development on the service.
SLIS collaboration with the HSE also saw increased access and provision of ISL interpreting to GP's and primary care services for all Deaf people in 2020.
"The commitment of SLIS staff in keeping all services working remotely during the COVID pandemic has been commendable" Chairperson Caroline McGrotty highlighted. "It is timely to take a proactive approach to consolidating on success to date by fostering stable services for Ireland's Deaf Community including secure staffing and resourcing arrangements."
In launching the SLIS annual report 2020, Chairperson Caroline McGrotty also thanked the SLIS Board and CIB for their efforts in difficult circumstances and looked forward to continuing a shared journey to fuller social inclusion for Ireland's Deaf community and enhanced interpreting services.
SLIS NDIS Report Jan-June 2021 (pdf)
ENDS