Citizens Information volunteers honoured for delivering essential services in their local communities
Over 140 Citizens Information volunteers were honoured at a national celebration event in Páirc Uí Chaoimh, recently. All eight regional CIS companies were represented with over 70 volunteers from South Munster CIS and North Munster CIS attending. It marked the dedicated work of all the volunteers throughout the country who make a real difference to so many lives. Sharon Conroy, Citizens Information Service National Manager, CIB welcomed all the attendees to the event.
The opening address was provided by Cllr. John Maher, deputising on behalf of the Lord Mayor of Cork, who has first-hand experience of the importance of volunteering having been a Scout Leader for more than 20 years.
He said: "I am delighted to attend this event today to acknowledge the significant contribution of the many volunteers who deliver information to our citizens. The Citizens Information Service provides help and advice to people throughout the country, and has for more than 45 years. It is invaluable for representatives like myself, when seeking accurate and impartial information to be able to point citizens towards a service that is free and confidential."
Volunteer recognition has been an important feature on the CIB event calendar for the past eight years. It acknowledges the importance and value of volunteers, particularly for the Citizens Information Service. Citizens Information volunteering is not only life-enriching for the individual volunteer but very much enhances the common good. The work carried out by almost a thousand volunteers has helped countless people access information or services and has strengthened the reputation of this national, community-based service. Last year, the Citizens Information Services answered over one million queries.
Speaking at the event Angela Black, Chief Executive said: "We are fortunate in Ireland to have a long-standing and proud tradition of community volunteering. We are very grateful for the work of the paid staff but particularly the unpaid volunteers who have given their time so willingly to the Citizens Information Service over the past 40 years. They have supported the service to help make it the success story that it is today."
Given the theme and the venue for today's event it was appropriate that Tracey Kennedy, Cork GAA Chairperson also spoke. Tracey is the first female Chair of Cork GAA County Board and is no stranger to volunteering. She said: The GAA is a huge volunteer-driven organisation with more than 750,000 volunteers across the country. I appreciate how these volunteers serve their local community in the same way that CIS volunteers provide an essential service in their local communities."
Other keynote speakers at the event included Bibi Baskin, well known entertainer and motivational speaker. Bibi was the first woman in Ireland to present her own chat show and went on to set up a heritage hotel in India. She now encourages others to make positive changes in their life. She said: "I'm a great believer in making changes that lead us onto the path of fulfilment and ultimately, happiness. I hope I can inspire you to make a change, small or big, in your lives."
Following a short musical interlude, Vincent Farr, volunteer with the Irish Coast Guard in Crosshaven, Co. Cork spoke. No stranger to emergency services Vincent is also a fire officer with the Cork City Fire Service. His presentation which included a video highlighted the heroic and invaluable work of the crews and volunteers. He said: "Everyone volunteers for different reasons but whatever they are, you give of yourself and bring your own unique experience, skills and abilities with you."
On a lighter note, entertainment was provided by South Munster CIS volunteer Lorna Clarke who did a recitation called "Second Chance" . Music was provided by fellow volunteer Noel Walsh on guitar.
"Volunteering – a Work of Heart" was the theme of a Calendar Competition run to mark the event. Volunteers were invited to submit photographs for inclusion in the calendar. The winners were presented with a 2020 Citizens Information Volunteer Calendar by Sara McSweeney and Angela Black, CIB. Each volunteer also received a commemorative Volunteer Pin and a sustainable message contained in a "seedbomb" highlighting a message of hope that the work of volunteers will continue to grow and spread in local communities.
Closing remarks were made by Angela Black, Chief Executive. The event which was compered by Lorraine O'Donovan, Regional Manager, South Munster CIS concluded with lunch and a chance for volunteers to network with colleagues from other services.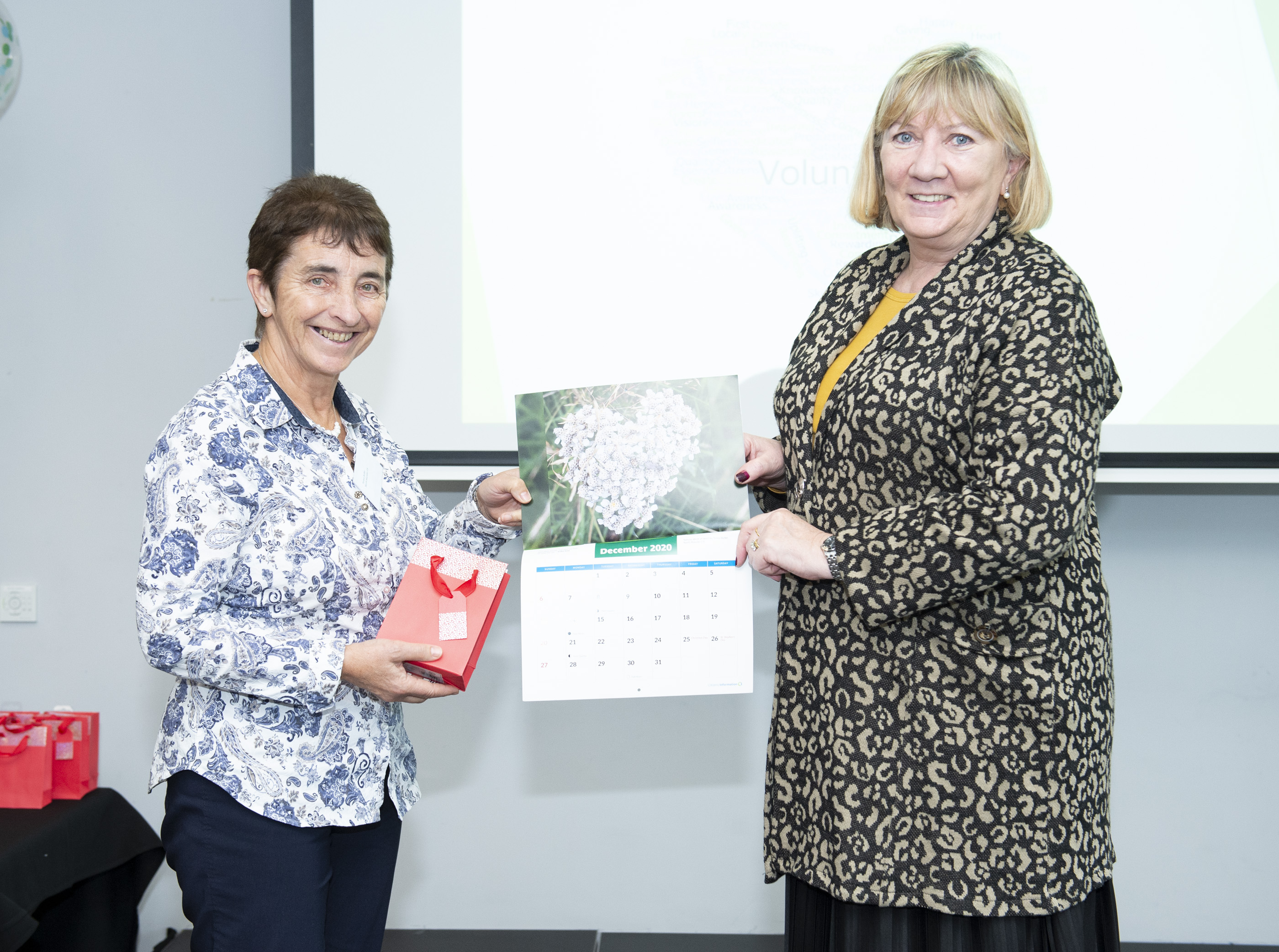 Angela Black, Chief Executive presents Teresa Butler, volunteer with North Munster CIS with her Calendar 2020 prize.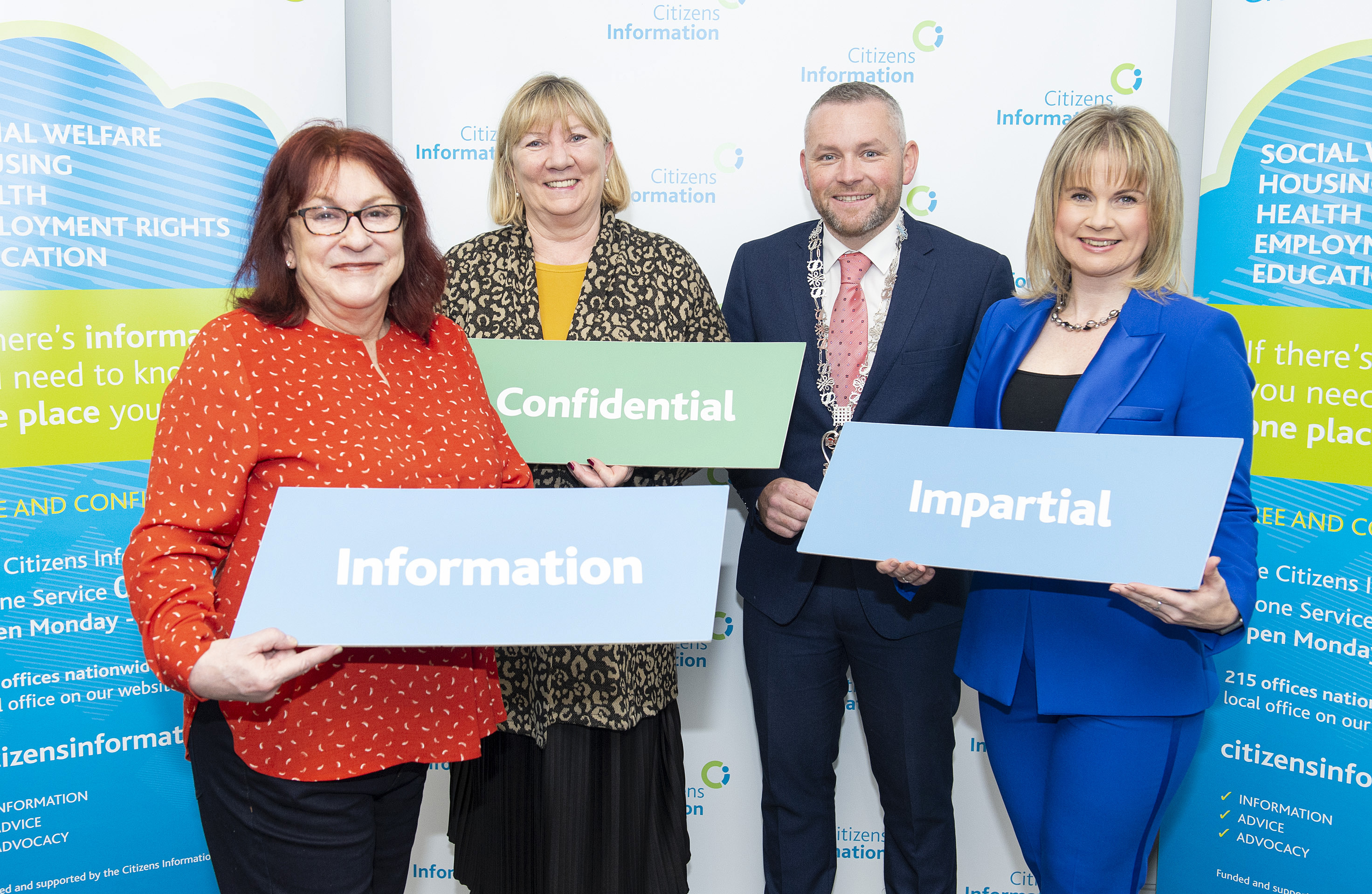 Pictured are some of the speakers who helped celebrate the CIS Volunteer Day in Cork from left: Bibi Baskin, Motivational Speaker, Angela Black, Chief Executive, Cllr. John Maher, Deputy Mayor of Cork and Tracey Kennedy, Cork GAA Chairperson.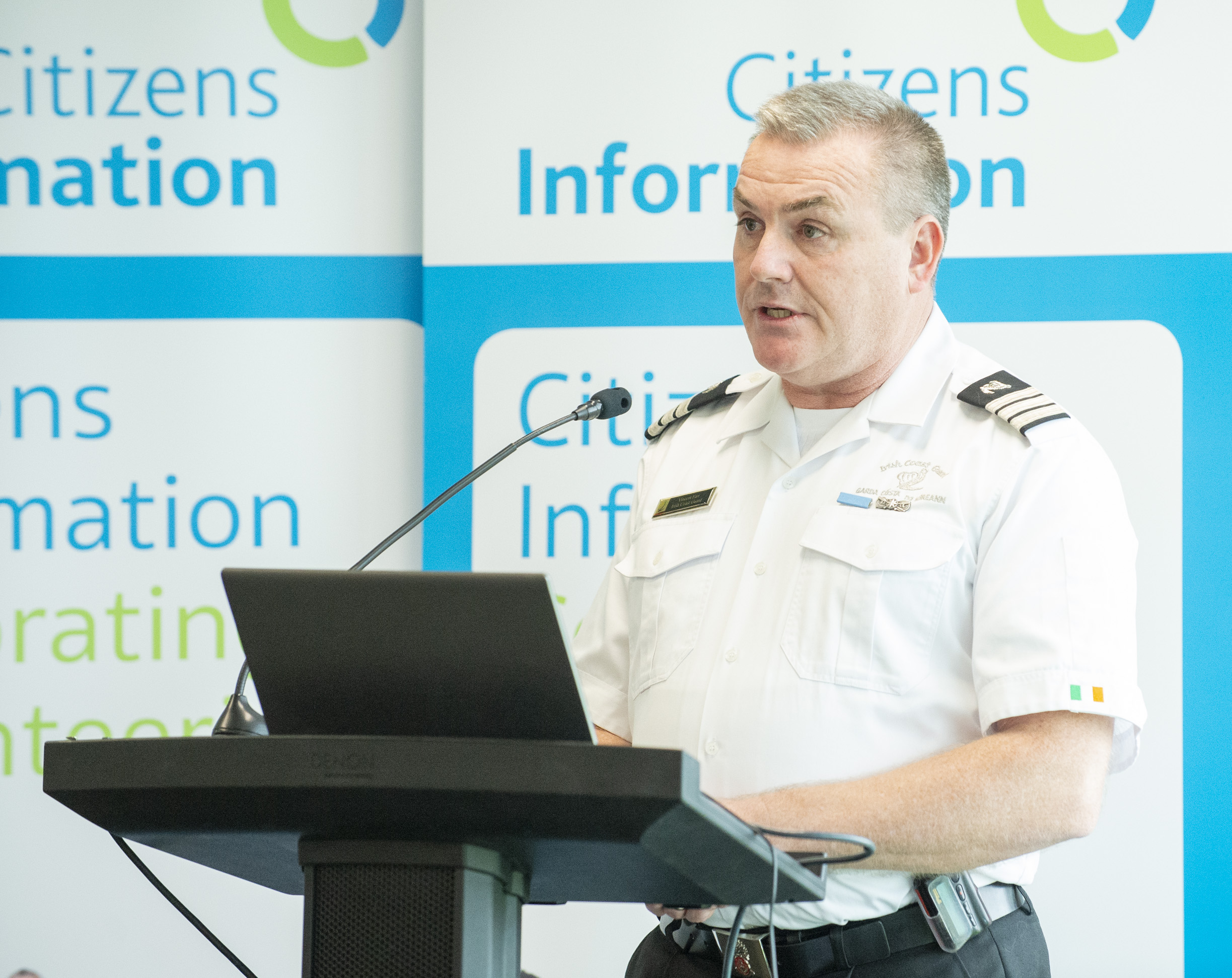 Vincent Farr, Irish Coast Guard speaking about his experience as a volunteer.
Volunteers at the celebration lunch.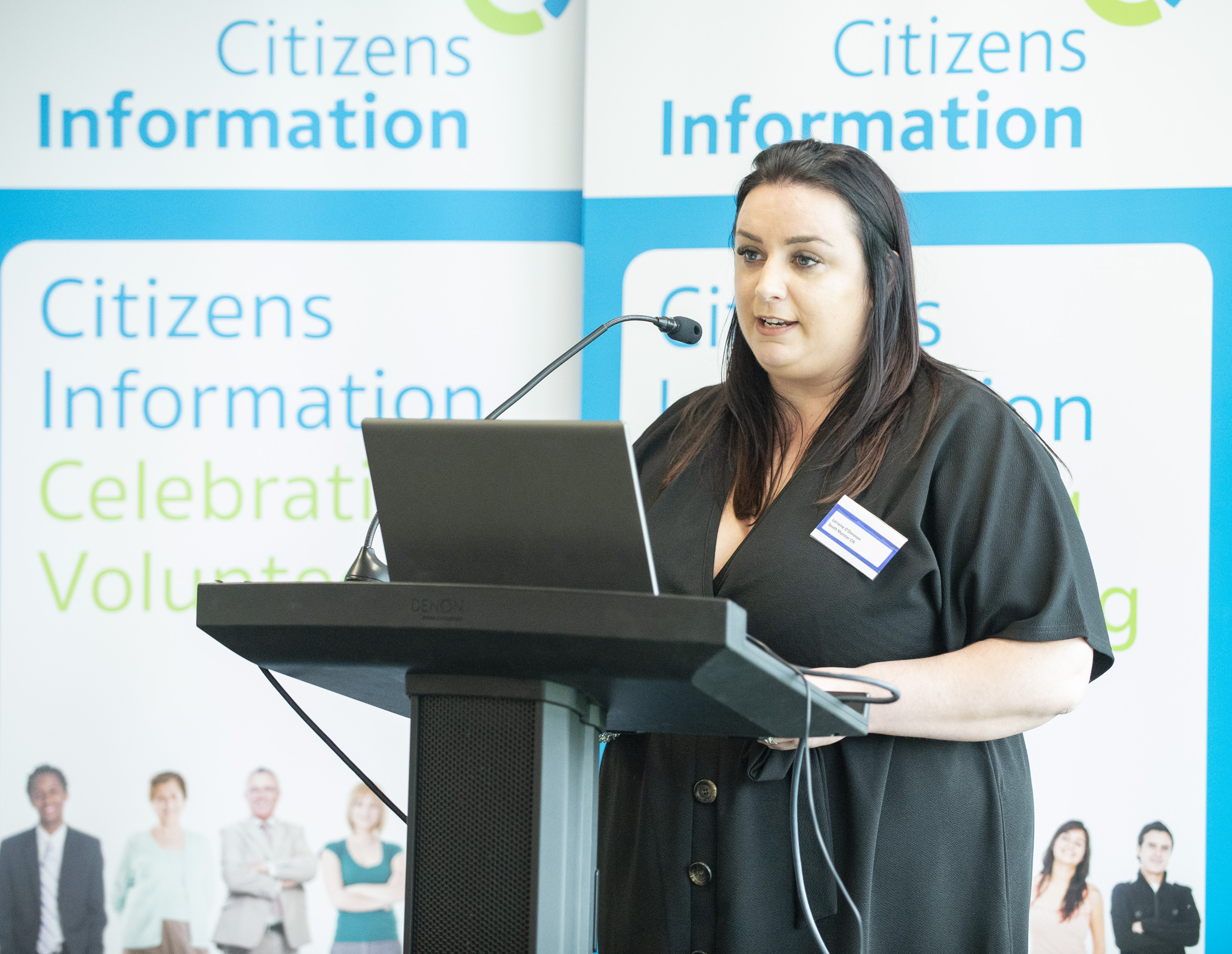 Lorraine O'Donovan, Regional Manager, South Munster CIS compered the event.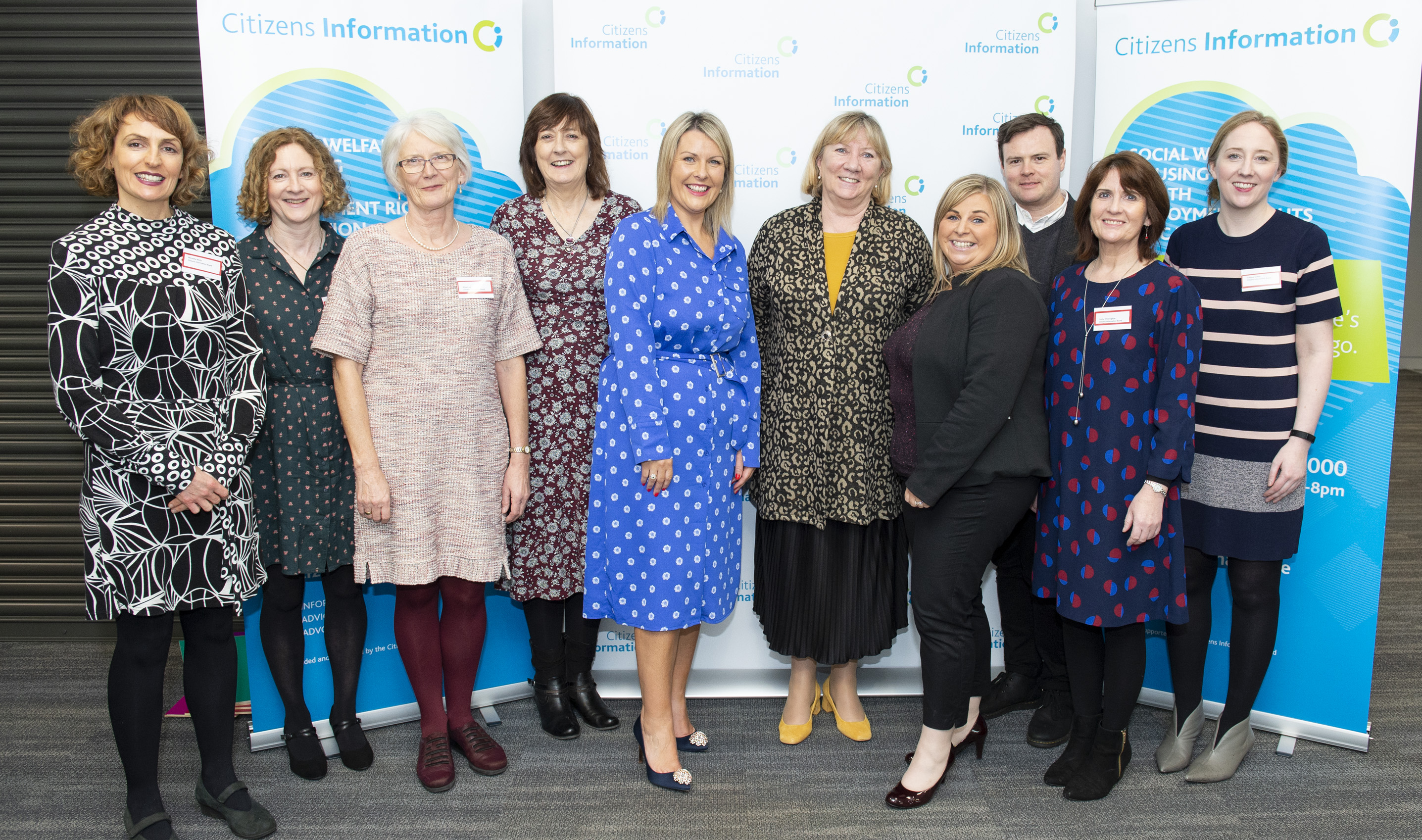 CIB event organisers pictured from left: Michelle Melia, Claire Ruddy, Eileen Lee, Mary Kelliher, Sara McSweeney, Angela Black, Chief Executive, Sharon Conroy, Michael Owens, Cathy O'Donoghue and Grainne Griffin.