Citizens First remains the focus for CIB at the Ploughing Championships
Citizens Information Board (CIB) at the National Ploughing Championships 2019
The Citizens Information Service and the Money Advice and Budgeting Service will be on hand again this year to answer the many queries that visitors to the National Ploughing Championship will have at the Citizens First marquee. As with other years it is anticipated that over half of all CIS queries will relate to social welfare payments. Based on feedback from the event last year, the majority of those queries come from those aged 46-65 years. Both CIS and MABS are funded by CIB.
Last year proved a difficult year for farmers due to adverse weather conditions and subsidies accounted for almost 75% of family farm income. Over half of farm households had an off-farm income indicating that farm income alone is not sufficient. Over 7,000 people received Farm Assist and of these 66% are aged 50 or over.
The looming uncertainty of Brexit this year will also bring its own challenges. The movement of animals and plants between Ireland and the UK brings new restrictions and paperwork. As the UK remains Ireland's largest trading partner with 40% of total agri-food sector goods destined for UK markets the need for clear information remains as critical as ever.
Social Policy
One of the advantages of a nationwide network of services is that CIB are also in a unique position to highlight information difficulties and policy issues that are likely to impact citizens. Those that may impact farming families and those living and working in rural Ireland come under the following headings:
Self-employed
The extension of treatment benefits and Invalidity Pension to the self-employed is a welcome development along with a new scheme of Jobseeker's Benefit from November of this year.
Many low income self-employed people approach information services seeking support in times of crisis such as illness, disability or business failure. They often need help to understand the means test requirements for Jobseeker's Allowance and for the Basic Supplementary Welfare Allowance. They are often confused by their exclusion from participation on activation schemes (if they do not qualify for jobseeker's payments), the Working Family Payment and short-term illness supports. Claimants of the new payment will be able to access the full range of activation supports currently available to other jobseekers.
Underlying all of these issues is a sense amongst information providers that there are significant information deficits amongst this group around the provisions and related coverage of their PRSI Class S contributions and of the need to maintain their social insurance record by way of voluntary contributions.
Services also continue to express concern around the situation for self-employed people in terms of establishing eligibility for a medical card – and also the related issue of the low income threshold for medical card eligibility.
Pensions
Feedback around the general issue of pensions suggests that there is a lack of knowledge amongst many people who are approaching retirement around their entitlements, and the various requirements and conditions surrounding the qualifying criteria for state pensions.
The 2012 changes to eligibility criteria delivered an effective cut in pension income for many pensioners and the ongoing review of the PRSI records of over 90,000 State Pension recipients by the Department of Employment Affairs and Social Protection is welcome, as it includes provisions for home-caring periods for this group.
Home care
Feedback suggests that there are significant challenges facing people with disabilities and older people in getting the supports that they need to live at home (or to transition from a hospital stay to returning home). The limited funding available via local authorities for housing adaptation grants, the inadequacy of home help hours and home care packages and the inconsistency in provision between areas has been highlighted. The lack of linkages between acute hospitals and community health services also remains high on the list of concerns.
Many families require a significant level of support in navigating what they perceive to be a complicated applications process for schemes such as the Nursing Home Support Scheme (the Fair Deal Scheme).
Benefit recipients
Income supports and social welfare related payments were the focus of 45% of the one million queries to CISs during 2018.
During 2018, CISs dealt with over 120,000 queries in relation to disability, illness or carer's issues.
At just under 65,000 queries, the medical card was the highest single issue or benefit recorded by information staff in 2018, accounting for two thirds of all health service queries. The main difficulty to emerge for CIS clients during the past year was the application, or renewal, of their medical card online. As the delivery of public services becomes ever more digitised, more and more citizens are seeking assistance in accessing public services online.
There were reported difficulties in accessing the local Community Welfare Service for many clients who are trying to cope with processing delays – in addition to concerns relating to the adequacy and availability of Basic Supplementary Welfare Allowance (SWA) as a payment of last resort. There were also reports of a lack of awareness of the payment amongst CIS and MABS clients.
Accessible public transport
Information services have also highlighted the role that accessible public transport plays in maintaining social connectedness amongst older people. This refers not just to the Travel Pass but, in particular, the value and benefit that rural transport has in maintaining a quality of life for older people and those with disabilities to connect with, and access, the services and communities around them.
If you need help with any of the issues above why not call to the #Citizens First Marquee located at Stand 414, Row 19, Block 4. #GovVillage #GovPloughing19
Abhaile - the Free Mortgage Arrears Support service will also be located in the marquee along with the Legal Aid Board (LAB) and the Insolvency Service of Ireland (ISI).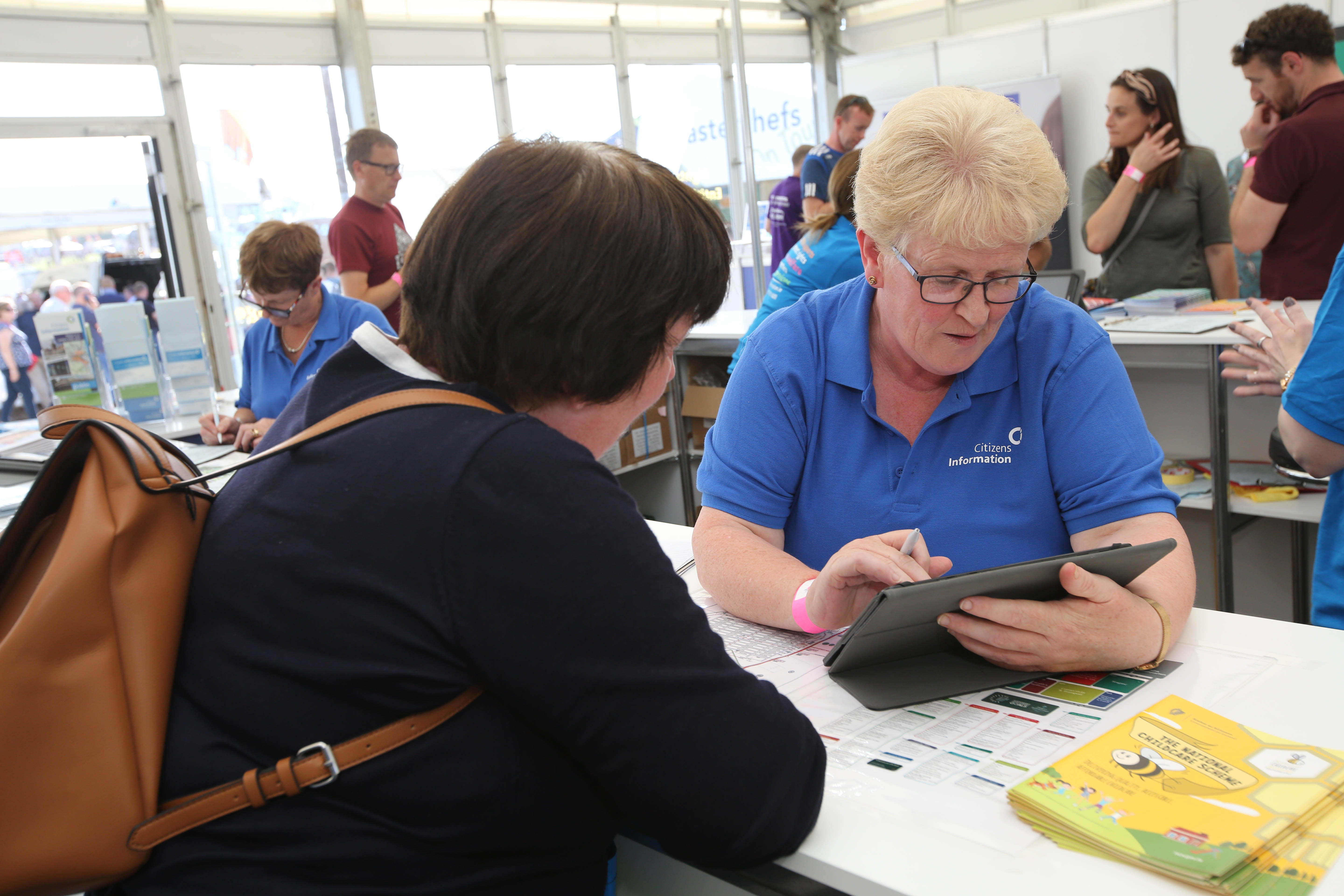 Citizens Information giving information at the National Ploughing Championships.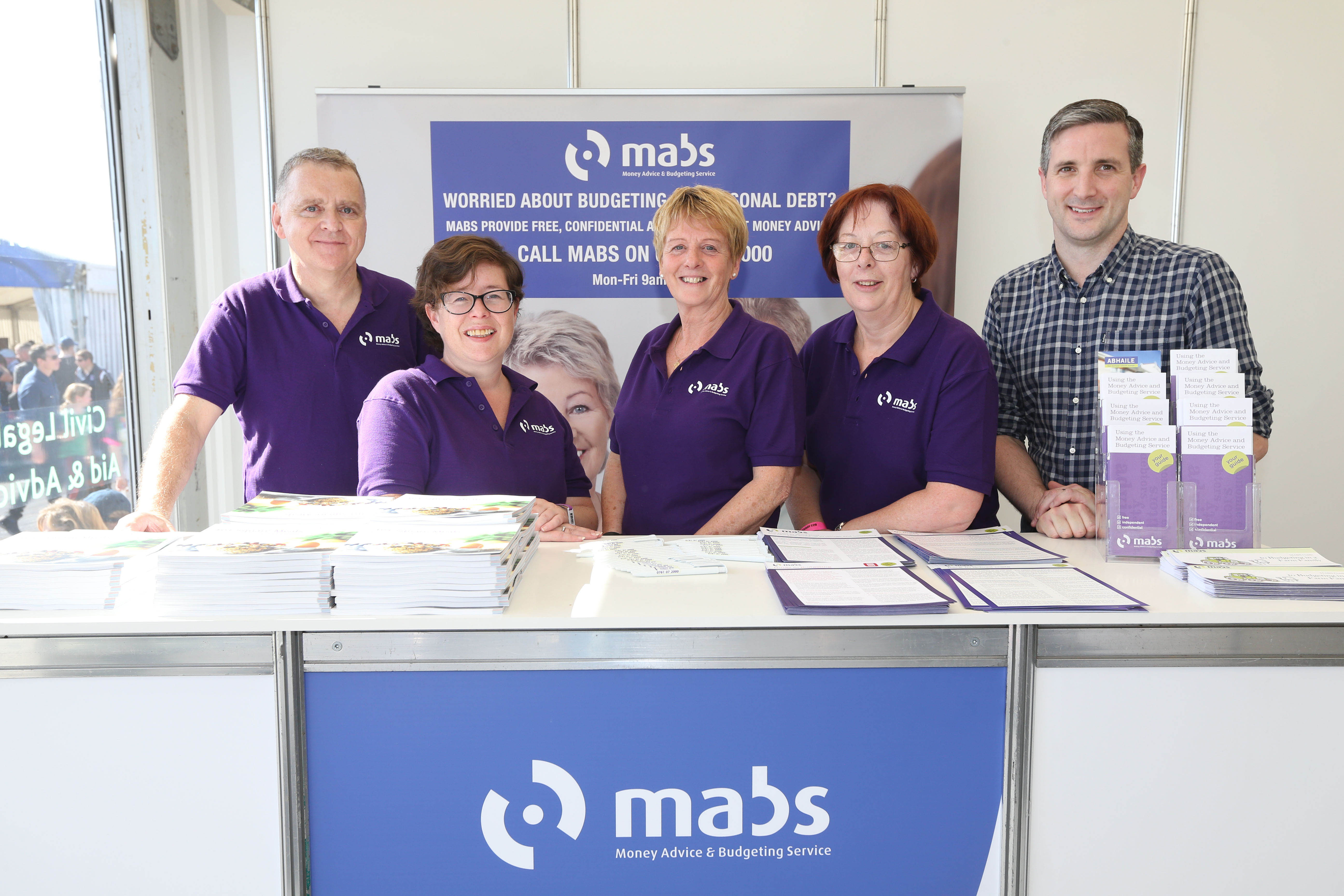 MABS staff pictured at the National Ploughing Championships with senior manager Adrian O' Connor.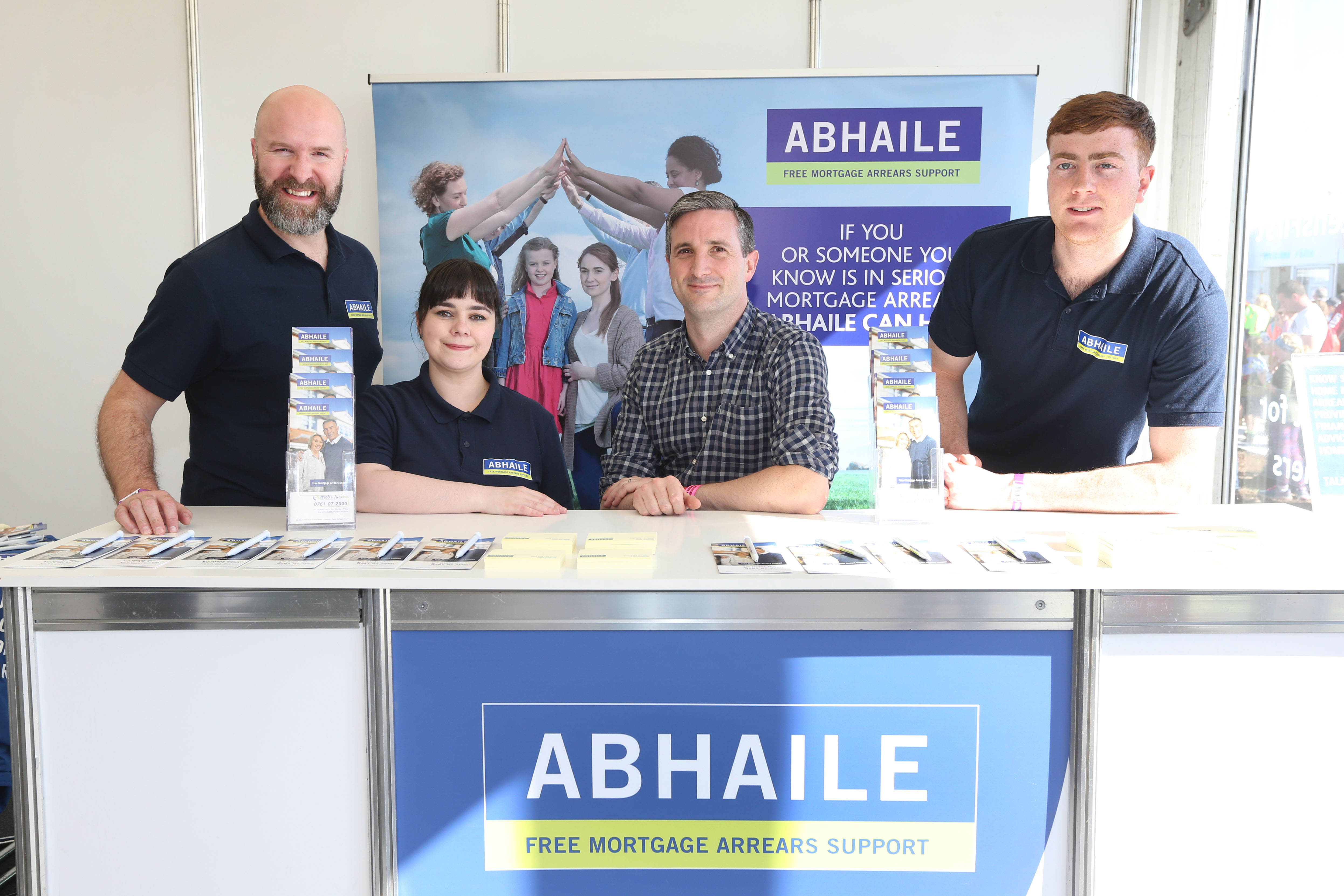 Abhaile staff pictured at the National Ploughing Championships with senior manager Adrian O' Connor.