A New Beginning for the Fingal Money Advice and Budgeting Service
October 2018
Minister for Employment Affairs and Social Protection, Regina Doherty T.D. recently opened the new premises of the Fingal Money Advice and Budgeting Service (MABS) which is located in the heart of the Plaza Village in Swords. Angela Black, Chief Executive, CIB spoke at the event thanking all those present and commending the staff for their invaluable work for the people of the area.
Fingal MABS has been serving the community of Fingal for over 20 years. As part of the MABS network, the service offers a range of supports such as budgeting advice, negotiating with creditors to achieve sustainable payment solutions and personal insolvency options. Additionally, Fingal MABS provides information and support under the Abhaile scheme for people in mortgage arrears.
Sharon Brennan, Co-ordinator said: "When Fingal MABS started its service to the greater Fingal community back in 1996 the staff consisted of two people. Today, we have six staff which includes a Dedicated Mortgage Arrears Adviser, three Money Advisers, a full time co-ordinator and administrator. Additionally, three of our staff are fully trained Approved Intermediaries (for the provision of Debt Relief Notices). The move to a new larger and more modern premises provides a greater opportunity to help even more clients. This year alone, we have dealt with over 240 new cases and continue to actively work with existing clients who have presented with complex issues, including mortgage arrears".
Gwen Harris, Regional Manager for North Dublin MABS, said "The opening of a new office is always a positive time for both staff and users of the service. This move reflects a lot of hard work and dedication from the Board of Management and I would like to take the time to thank the Board for their support of the MABS service. The new office opening comes also at an exciting time for MABS nationally as we move to a new regional structure. The new structure will bring many new opportunities for MABS by building on existing services to ensure consistency across the region, while responding to specific local needs."
Alan Farrell T.D. and Senator James Reilly were also present on the day. Additionally, the event was attended by a number of local services including county council officials, Mayor of Fingal, Anthony Lavin, employment support groups, family support agencies, representatives from the Citizens Information Board and other MABS.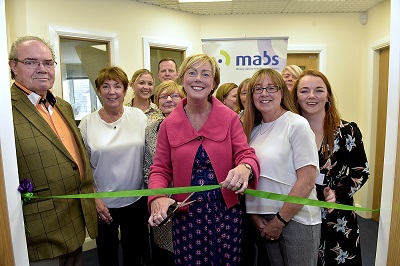 Minister for Employment Affairs and Social Protection Regina Doherty T.D. with members of staff officially opening the new offices of North Dublin MABS, Swords Office.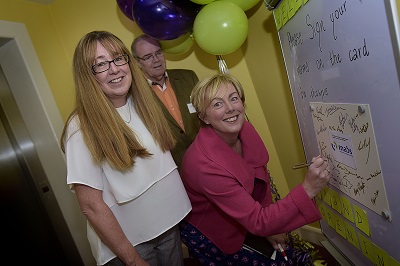 Minister Regina Doherty signs her name to a commemorative card with Sharon Brennan, Coordinator of North Dublin MABS, Swords and Brian Lally, former Chairperson of Fingal MABS.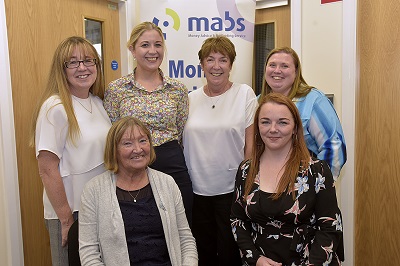 Pictured at the opening are members of staff: L-R Back row; Sharon Brennan, Charlene McGuane, Anne Bradshaw, Melissa Geddes and front L-R; Anne Kilbride and Liz Daly.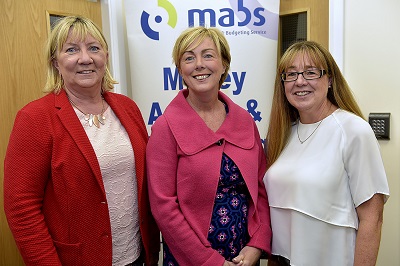 Pictured are Angela Black, Chief Executive, CIB, Minister Regina Doherty and Sharon Brennan, Coordinator of North Dublin MABS, Swords office