Citizens at the centre despite stormy conditions at National Ploughing Championships
October 2018
The Citizens Information Service (CIS) and the Money Advice and Budgeting Service (MABS) were on hand to offer independent information and advice to the 240,700 people in attendance at this year's National Ploughing Championships (NPC).
The event took place in Screggan, Co.Offaly for the third year in a row. It was scheduled to take place 18th – 20th September. However, Storm Ali's adverse weather conditions forced a cancellation on Wednesday 19th. As a result, the event was extended to Friday 21st.
Staff from the South Leinster CIS and MABS Region were joined by the Citizens Information Phone Service (CIPS) and the Citizens Information Board (CIB). Abhaile, the free mortgage arrears support service had a presence, as did the service providers within Abhaile – the Legal Aid Board (LAB) and Insolvency Service of Ireland (ISI). The Sign Language Interpretation Service (SLIS), National Advocacy Service (NAS) and Personal Micro Credit (PMC) were also present in the tent.
The Citizens Information Service dealt with a wide range of queries from visitors to the tent – focusing in particular on social welfare, health, and the environment. Likewise, the Money Advice and Budgeting Service assisted people with concerns over debt issues.
This year CIB and Teagasc launched a joint publication called "Supports for Farmers" at the NPC. This useful booklet outlines the range of supports and services available to farmers. Speaking at the launch Grainne Griffin, Senior Manager, CIB said: "We are acutely aware of the difficulties that farmers are experiencing. Many of our network offices are located in the heart of rural communities. Just some of these challenges include drought, farm income and rural isolation. Providing relevant and comprehensive information on core farming matters and health and well-being has never been more important."
The publication is available from local Citizens Information Centres or can be downloaded at http://www.citizensinformationboard.ie/downloads/guides/Supports_for_Farmers.pdf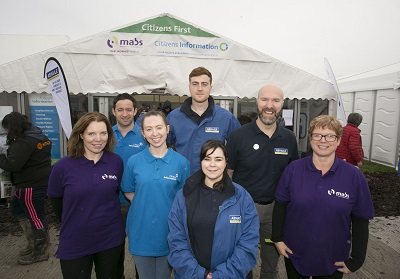 Back L – R: Philip Judge, Manager, Offaly CIS; Evan O'Sullivan, Marketing Officer, Abhaile; Bobby Barbour, Communications Manager, Abhaile. Front L-R: Bernie Keenaghan, Offaly MABS, Katie Goodwin, CIB, Nicole Boyle McBride, Abhaile and Mary Errity, Offaly MABS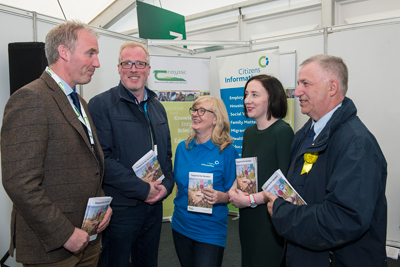 Pictured at the National Ploughing Championships in Tullamore at the launch of the Citizens Information Board/Teagasc booklet on 'Supports for Farmers' are Barry Caslin, Teagasc, Damien O'Reilly, RTE, Cathy Gerrard, CIB, Grainne Griffin, CIB & Professor Gerry Boyle, Teagasc Director. Photo O'Gorman Photography.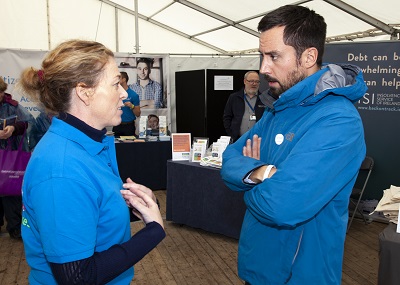 Susan Ryan, South Leinster CIS Regional Manager and Minister for Housing, Planning and Local Government, Eoghan Murphy.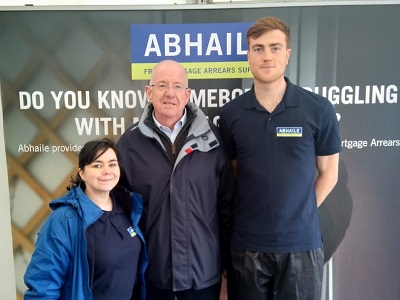 Minister for Justice and Equality, Charlie Flanagan with Evan O'Sullivan and Nicole Boyle McBride from the Abhaile Communications Team.